How to enter and edit Classroom Based Assessment results. This article is intended for Teachers. (Read time: 15 minutes).
The Classroom Based Assessments feature allows teachers to enter in the new grades for Junior Cycle short courses.
Last updated: 11/07/20222
Tip: A common mistake teachers make is to save the CBA results but not submit them to the school. The steps below describe the full process.
Watch the explainer video below (teachers can skip forward to 03:13 on this video as the first 3 minutes are for admin):
Step 1
Go to your teaching group.
Step 2
Click on the CBA button on the top right.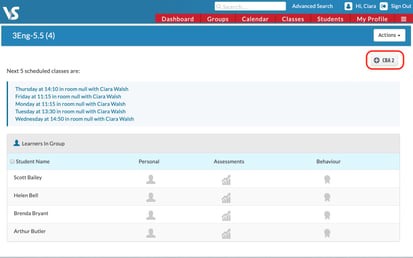 Step 3
Enter in the results.
Step 4
You can choose to simply save this screen and complete at a later date, however when you have all of your data entered and are certain that you are now satisfied that the data is correct and finalised > press the Submit button.
Step 5
Pressing Yes will lock and close the data entry screen and the you will be returned to the teaching group screen again but now, the CBA button will have been removed.
***NOTE: If the CBA is not submitted, the CBA will not be able to synchronise with PPOD.
Editing results for CBAs (including in past academic years)
If the submit button had been pressed prematurely by accident, you must inform the school management who can unlock the data entry screen again and this will allow you to adjust the required assessments entries and to re-submit.
The same goes if you need to edit or input CBA results for past academic years, you must first ask the school management to unlock the data entry screen for that CBA.
Then go to your teacher profile and select State CBA on the left panel > Under 'Choose Academic Year' select the year that you are trying to edit > click the three dots > Click 'View'.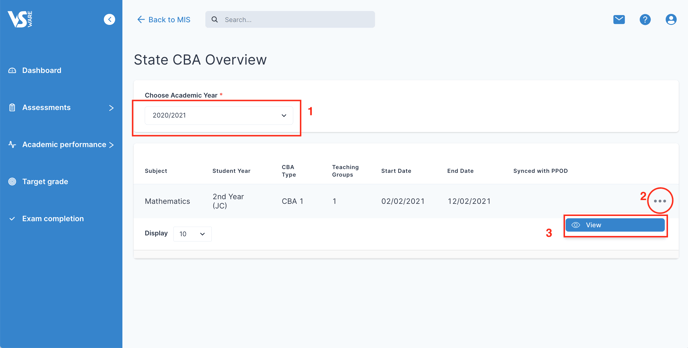 On the next page, click on the 3 dots again > click "+Add Results" on the relevant teaching group > click on "Add result" on an individual student where you can enter or edit the results.
When finished, click 'Save & Exit' > then 'Actions' > 'Submit Results'.
For the full guide on how to enter the results as a teacher, click here.
---
If you still have questions, please visit our knowledge base at support.vsware.ie. You can contact our support team via email at support@vsware.ie, via the chat bubble when you are logged into your VSware account or via phone on 01-5549628. Support hours are Mon - Fri, 08:30 - 18:00.