Attendance Guides for Teachers
Mark attendance as a teacher (read time 1 minute)
Marking attendance as a teacher via the app or web browser
Attendance via the app
Marking attendance via the app looks slightly different to when you mark attendance on your web browser
Attendance via the web browser
Getting to the Mark Attendance screen
There are a number of ways to reach the mark attendance screen via your teacher account.
The quickest way is via the My Classes widget which can be found on your dashboard/home screen. It will show if you have any over due classes in orange as shown below.
Click into the Take attendance button (the little red calendar) to reach the attendance screen.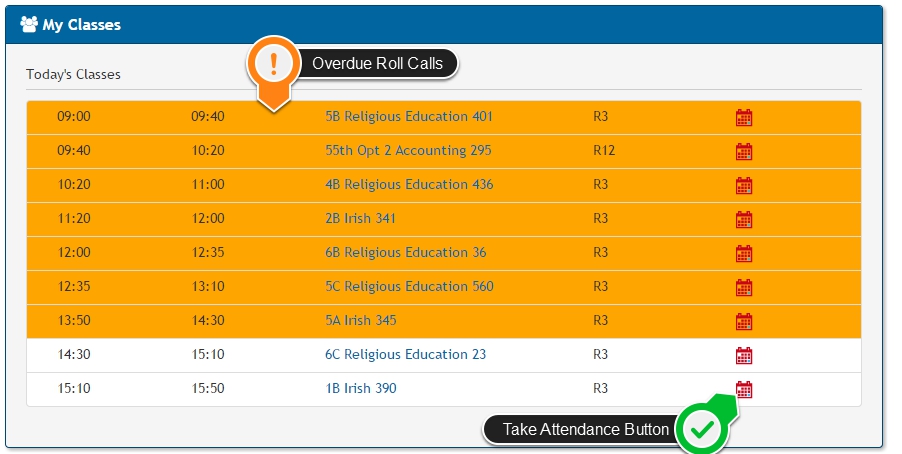 You can also reach the attendance screen by accessing a particular teaching group. You can do this by:
Searching the teaching group name in the search bar for (example 1EngA) > actions > mark attendance.
Accessing the teaching group via your teacher profile. Go into the Timetable or Classes & Subjects buttons > click on the teaching group > actions > mark attendance.
Marking attendance
Click on the attendance codes along the top of the screen > apply them to the relevant students > click save. The present mark is the green tick.
Note that any student that is left blank, will be automatically marked as present if you click save.
If one or two students are absent or late etc., and the rest are present it is quicker to first click the absent code relevant to the absent students > apply that to those students > then click save. Any student with a blank mark will have the present code applied to them automatically.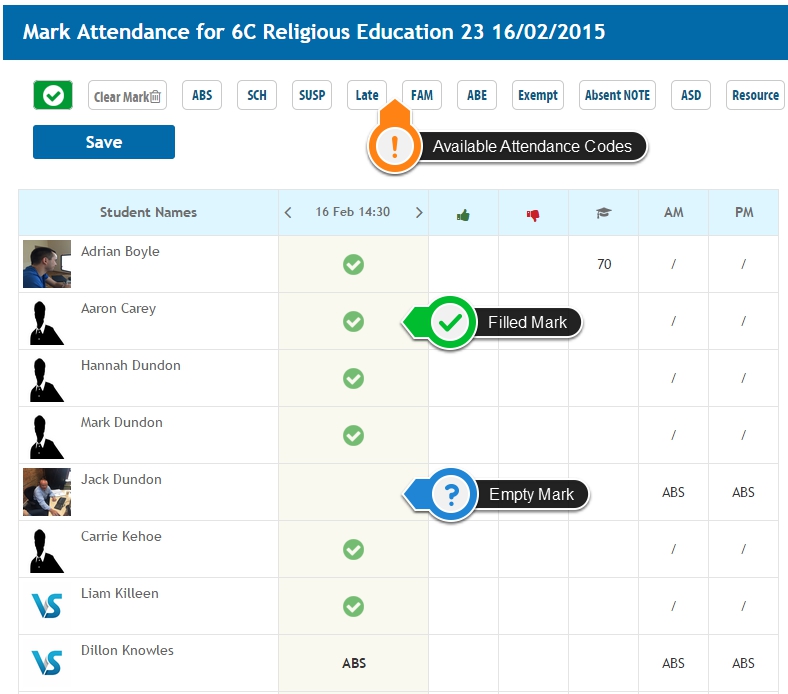 You also have the option toward the top right of the screen to enter notes against your students, if you wish to record anything on their record for that class.