Managing Students and general administration FAQ
Q: How to enter Leaving Cert Results (read time less than 2 minutes)
A: Before entering results, you must create a new exam in VSware in the same way that summer or Christmas exams are created.
Step 1. Create the exam
Click 'Settings'
Then 'Exams' on the left menu
Select the year you are entering the results for
Click 'Actions' and 'New Exam'
In the Edit Exam box, enter 6th year (LC) in the year box
Enter the name, e.g. Leaving Certificate 2019
Enter the start and end date (this relates to how long the exam is open for results entry)
Enter other information as required. (Most of these aren't relevant as you will be just entering in the exam result with no comments)
Click 'Save'
Step 2. Enter the results
Go to the 'Classes' tab and scroll to the 6th year classes
Select 'View List'
Select the first student on the list
Select the 'Term Reports' tab on the left menu
Click 'Actions' and 'Results Entry'
Select your Leaving Certificate 2019 exam that you've created from the dropdown
Enter the result in grade format, i.e. H1, H2, etc.
Finally, in the 'Level' column, set the study level to Higher, Ordinary, Foundation or N/A if these are not already set
Once the student's exam results are entered, select 'Save'
To move to the next student on this list, select the arrow under their profile picture to toggle between students
Repeat the above steps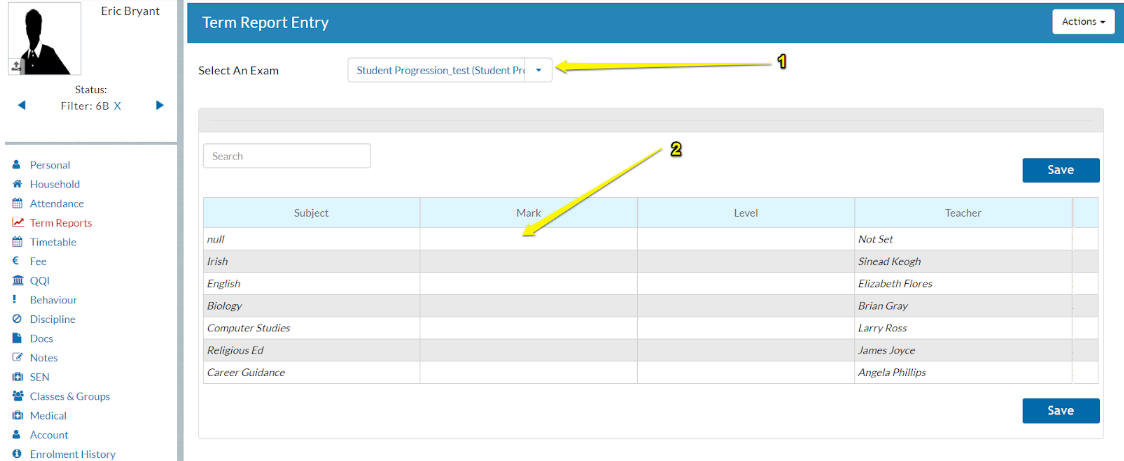 *If you want to enter results for subjects that were taken outside of school, click on this link for a more in depth guide.