How to Mark Attendance
Your class lists to take attendance can be accessed in a number of ways.
1. Clicking the 'Take Attendance Button' for the class in question from the 'My Classes' widget on the dashboard. Classes highlighted in orange are overdue.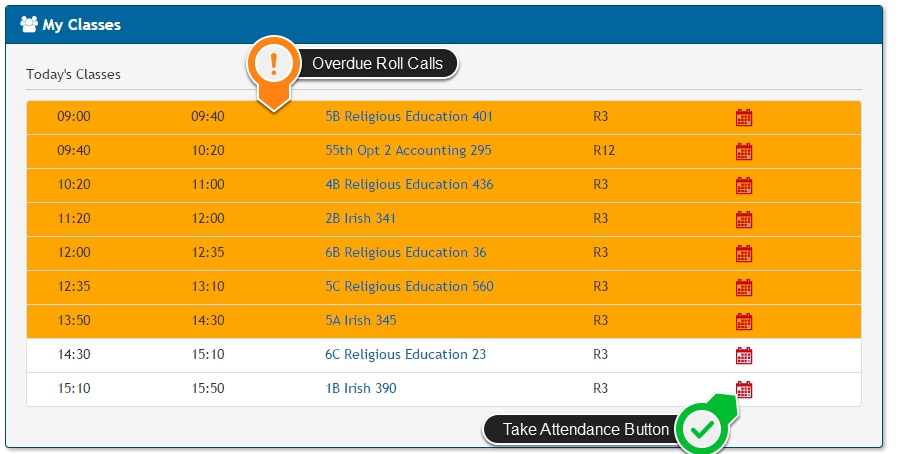 2. Clicking 'Hi, Your Name' at the top of the page, then clicking Timetable to the left of the screen. You can now access your class list by clicking on the relevant class on the timetable grid.
3. Typing the class name into the search bar at the top of the screen.
Below you can see a partially complete attendance screen, we can use the the 'Available attendance codes' to fill in all the blanks as required.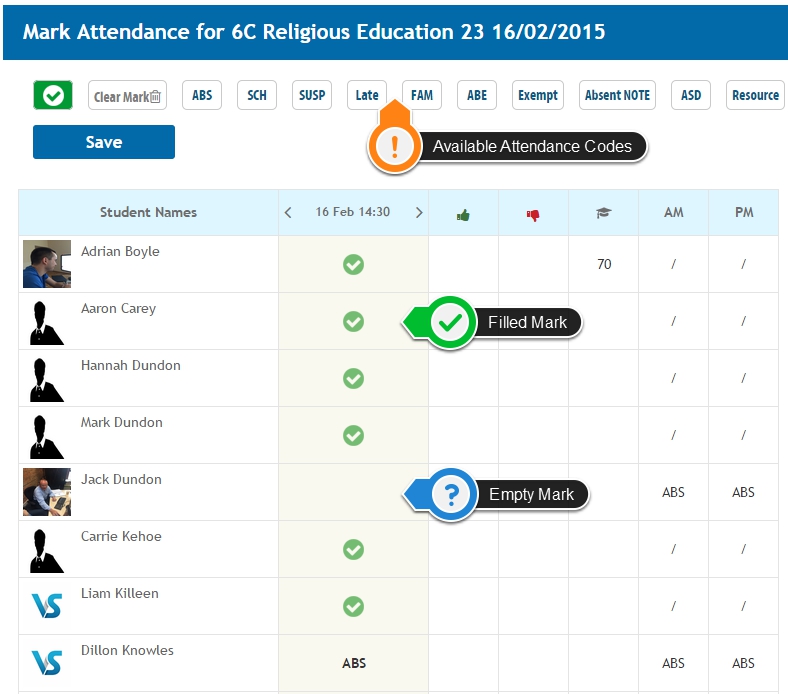 You usually should only have to fill in any mark that is not present, as any student left with a blank mark will auto-fill to present as soon as you click save!
You also have the option toward the top right of the screen to enter notes against your students, if you wish to record anything on their record for that class.

How can attendance be taken for another teacher's class?
With the new Users and Groups feature, a teacher would have to have the 'Access to All student profiles' permission in order to take attendance for another teacher's class, or to mark attendance for a student that is not in one of their classes.
An admin staff member is able to take attendance for any class/group/individual by default.
Steps to take attendance:
Navigate to the teaching group (search for it or find it on the teacher timetable)
Actions
Mark Attendance & Save
Adding Behaviour
To assign a behavior type to a student profile,
1: Go to a student account.
2: Click on behaviour.
3: Actions.
4: Add new behaviour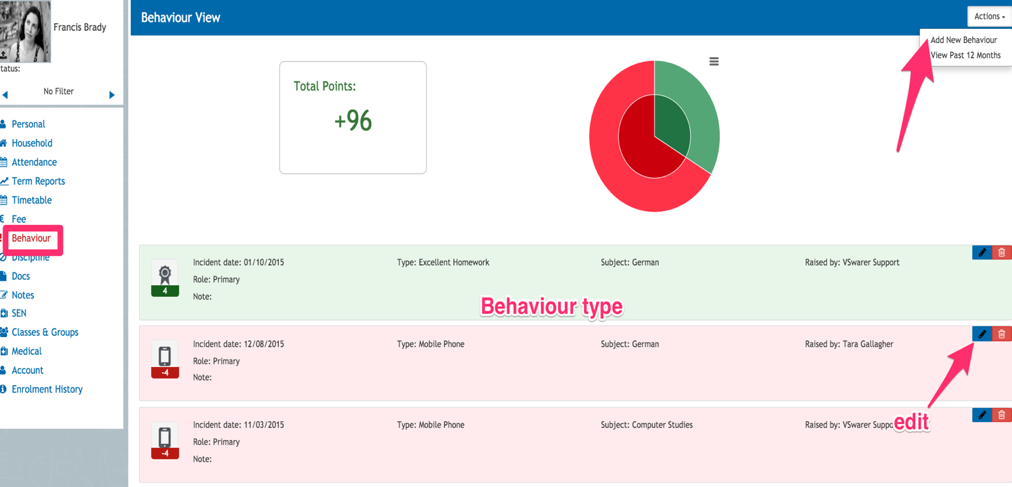 Users can remove a behaviour type from a student account by clicking on the red bin. Actions and disciplines can be added to the behaviour type and details can be amended by clicking on the pencil.
How to Enter Exam Results
Step 1
When a teacher is logged in, they simply need to visit their timetable from their profile page and select a timetabled class, which will redirect them to a class list page.
Step 2
From the class list page, select the exam button, which will only be visible during the active date range configured when creating the exam under Settings > Exams.

Step 3
Enter a numeric result. VSware automatically calculates a grade based on this value. Enter ABS if a student is absent.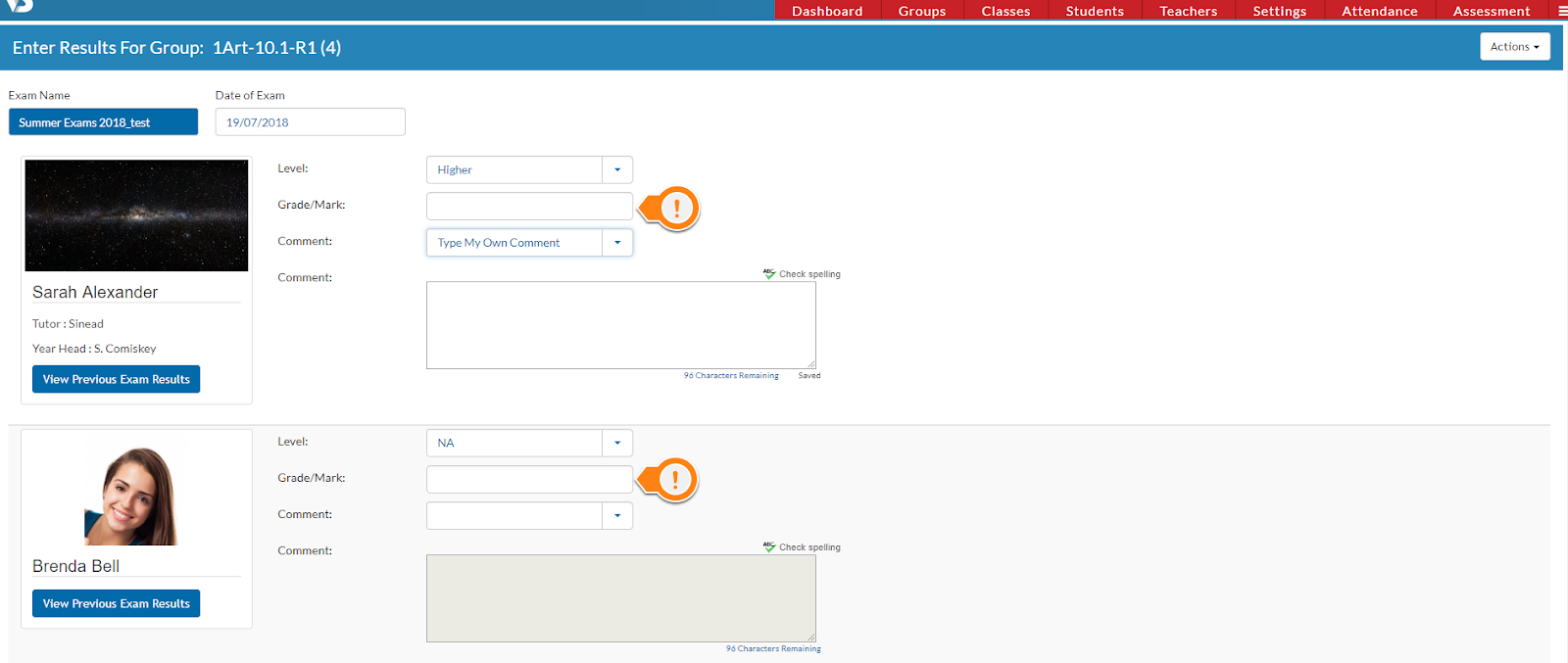 Step 4
In this sample exam, teachers can leave a freeform comment or select a comment from the comment bank. If freeform comment selected, the text area becomes active for teachers to enter a comment, limited by the number of characters set for the exam. Otherwise teachers can select a predefined comment from the comment bank.
Step 5
Click 'View Previous Exam Results' to view previously entered results and comments for the previous term report, if available.
TIP: The subject level is usually already set based on the timetable, however teachers can edit the level in this screen if a student has changed their subject level.
This page automatically saves results and comments entered every 7 seconds,however there is also a save button at the bottom of the screen. Each comment has a save status which confirms if the result and comment has been saved successfully.
How to Set/Reset Password
All users (parents, teachers, secretaries, principals, all school staff) can now reset their own passwords without having to go through the school admin staff with the exception of students who must still contact the school.
To reset your password:
Go to the school's login screen, for example: schoolname.vsware.ie
Click 'Reset Password'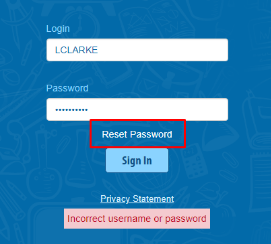 This brings you to the 'Reset Password' screen
Type in your username
Type the last 4 digits of your phone number
Click 'Validate'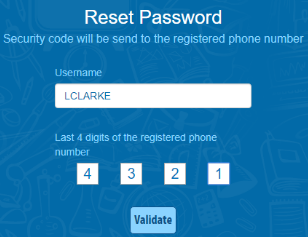 You will then receive a text message containing the verification code. This SMS might take a minute or two to be sent.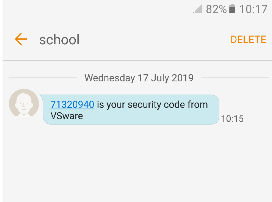 Enter the code, type your new password into the 'New password' and 'Confirm password' fields. Make sure that your password follows the criteria listed
Click 'Change password'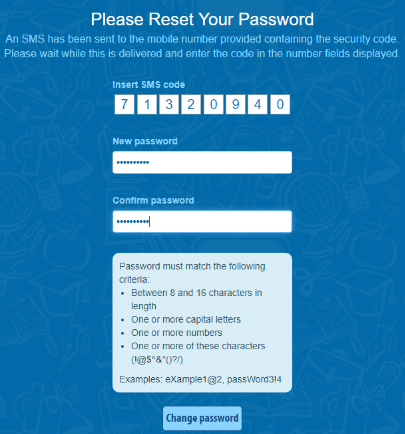 You will see a message confirming that your password has been successfully updated. Once you see this click ' Go To Login'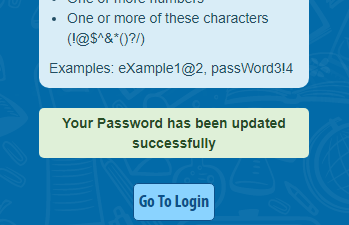 This brings you back to the main Login screen. Type your username, your new password and click 'Sign In'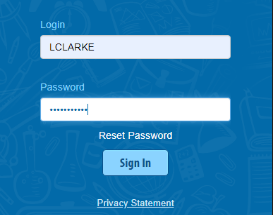 Points to note
Please note that if you request more than 3 security codes on one day, you will be blocked from generating any more until after midnight when the system resets.
If you have locked your account, the admin staff in the school can override this for you and unlock your account.
(This is done in Settings > Users & Groups > Users > drag and drop the name of the user from the 'No Access' list on the left back to their correct user role.)

If you do not have a phone number registered, you will see this message and will have to contact the school so that their mobile number can be added to their personal details (under the 'Address' tab).