Create new teacher login details (read time less than 2 minutes)
If you want to create a brand new teacher account, you must first add a new teacher. Find the guide here .
Once they are set up, or if the profile already exists, go to their profile and click on the 'Address' tab to the left and enter their mobile number into the SMS field > 'Save'.
Next, go to this teacher's account page > type in a new username (with no spaces) > Save'. (Avoid fadas, apostrophes, spaces and full stops as these can cause issues).
In order to enable access to VSware for the teacher go to Settings > Users & Groups > Users > drag the name of the new teacher from the 'No Access' column on the left to the user group they belong to - in this case, 'Teacher'.
For the full guide on users and groups click here.
How to send the teacher the URL and username.
*Please note that we no longer support the functionality to send any user's password via SMS, but you can send a text containing the URL and username.
With teachers, you can either give the username and URL to them in person or send via SMS.
To send an SMS, go to the teacher's 'Address' tab > select SMS > type the text > Send. Here is an example: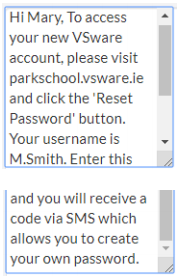 Logging in
The teacher can now create their own password. All they need is the school URL and their new username. They must go to the school's login page and click 'Reset Account'. They will be sent a code to their phone. When they enter this, they can then create their own password. This is now their permanent password which they will use going forward. For the full reset password guide, click here.