How to record a behaviour incident for your student. This article is intended for Teachers. (Read time: 1 minute)
Last updated: 27/07/2022
How to record a behaviour incident as a teacher in the web app/browser (Google Chrome) or mobile app (iOS or Android).
From the web app/browser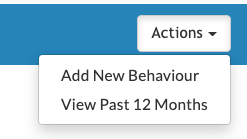 Step 1
Go to the student's account > click on 'behaviour' > Actions' > 'Add new behaviour'.
Step 2
On the next screen, record the details of the incident. You can add extra information under the 'Incident Details' tab if you wish.
Step 3
You can assign the behaviour to another teacher or year head under the 'Action Taken Details' tab which will trigger a notification to that person's dashboard. There is a further option to make the incident details confidential so only you and the assignee will be able to view the details.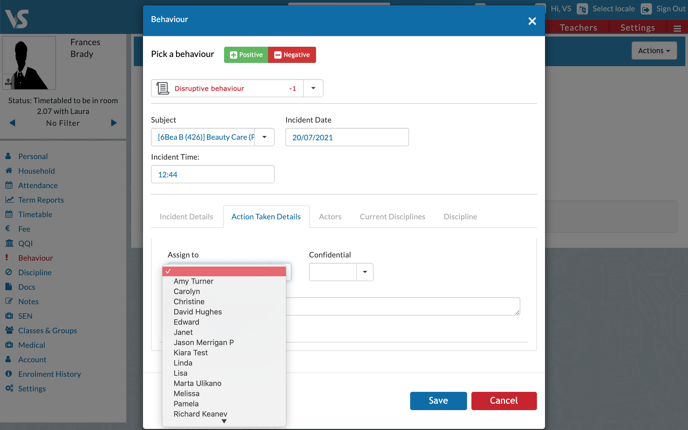 Step 4
If more than one student was involved in the same behaviour, select the 'Actors' tab and select the student's names so that the behaviour is duplicated on to their profiles, saving you doing the task multiple times.
Step 5
Any form of discipline that is carried out such as verbal, Assigning extra work or a note to parents etc. is recorded in the "Discipline" tab. If multiple disciplines apply, one can view all the disciplines a student received for this one incident in the "Current Disciplines" tab.
Step 6
Users can remove a behaviour type from a student account by clicking on the red bin. Actions and disciplines can be added to the behaviour type and details can be amended by clicking on the pencil.
From the mobile app (iOS or Android)
Step 1
Click on the relevant student's name wither from the attendance screen or from the 'Students' list > Tap on the student's 'Behaviour' tab and select 'Add Behaviour'
Step 2
On the next screen, record the details of the incident including a comment if you wish > tap 'Submit Behaviour' .
---
If you still have questions, please visit our knowledge base at support.vsware.ie. You can contact our support team via email at support@vsware.ie, via the chat bubble when you are logged into your VSware account or via phone on 01-5549628. Support hours are Mon - Fri, 08:30 - 18:00.