How to create a new In-Class Assessments. This guide is intended for Teachers. (Read time: 2 minutes)
Last Updated: 12/12/2022
Recording Class Assessment results / creating class assessments
Note: Class Assessments can only be created by teachers for their own students. They are not associated with state or school exams or CBAs. While principals and secretaries have access to the information on them, they exist purely for you as a teacher to use and to keep track of smaller quizzes, tests etc that you assign to your class through the school year. You can use them as once off assessments or create a series of assessments, it's up to you as a teacher.
Creating a new Class Assessment
Go to Assessments > Class Assessments > here you will see an overview of your in class assessments if any exist > click 'Create class assessment'

Next, follow the steps to enter in the details / criteria for your assessment including which specific students it applies to > hit 'Create class assessment'

If you select Percentage, you will be given the option of setting your own custom Pass threshold for this assessment.
Once it is created, you can record results straight away if you wish
We have added the description to the Class Assessment overview so you can see which assessment is which at a glance

Product update: When a student or a parent view their Class Assessment's page, the 'Study Level' and the 'Target Result' fields are now displayed (if you have configured your assessment to include them in the class assessment set up).
Also when any user (parent, teacher or admin user) clicks 'Actions 'and downloads the class assessment to CSV or PDF, it now displays these fields in the downloaded files too. Below is what the parent or student would see in their Class Assessment Tab.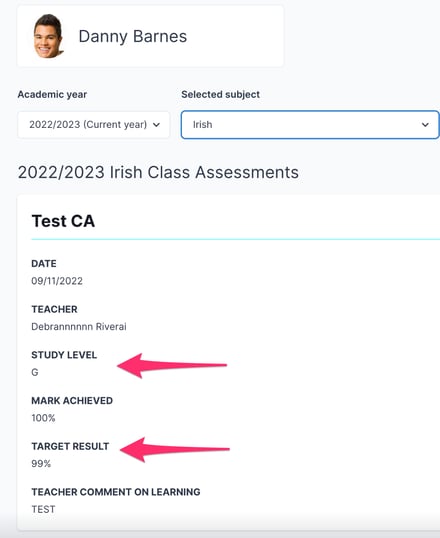 ---
If you still have questions, please visit our knowledge base at support.vsware.ie. You can contact our support team via email at support@vsware.ie, via the chat bubble when you are logged into your VSware account or via phone on 01-5549628. Support hours are Mon - Fri, 08:30 - 18:00.