View timetable as a teacher
How to view your weekly timetable. This article is for teachers. (Read time: less than 30 seconds)
Last Updated: 02/03/2023
Teachers can keep track of their weekly or daily schedule using the timetable.
Via the iOS or Android mobile app
Step 1
Tap the 'Timetable' button at the bottom of the screen.
Step 2
You will then be brought to the Timetable screen. Here you can scroll through your classes for the week, or you can switch to a daily view to view your daily schedule hour by hour. Simply click on 'Today' to be brought back to the current view.
Substitute Teacher visible on timetable
Teachers who have been marked as absent, can now view which teacher is covering their class for them via their timetable. This is useful for teachers who want to assign work or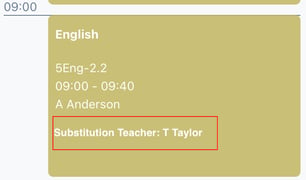 pass information onto the teacher who is covering their class for them. This is currently available on the Mobile App only and will soon be available on desktop.
Please note: when viewing on desktop, you must click the small arrow on the top right of the teaching group so you can view the Substitution Teacher.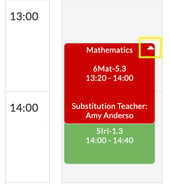 Via the web browser (Google Chrome)
Step 1
Click "My Profile" at the top of VSware.

Step 2
Next click on the "Timetable" menu option on the left panel.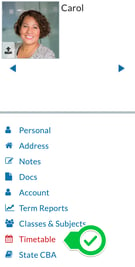 ---
If you still have questions, please visit our knowledge base at support.vsware.ie. You can contact our support team via email at support@vsware.ie, via the chat bubble when you are logged into your VSware account or via phone on 01-5549628. Support hours are Mon - Fri, 08:30 - 18:00.