How to mark attendance. This guide is intended for Teachers. (Read time: 3 minutes)
Last updated: 27/07/2022
How to mark attendance as a teacher in the web app/browser (Google Chrome) or mobile app (iOS or Android).
Via the web browser (Google Chrome)
Step 1
The quickest way to take attenadnce is via the My Classes widget on your dashboard/home screen. It will show if you have any overdue classes in orange as shown below.
Click into the Take attendance button (the little red calendar) to reach the attendance screen.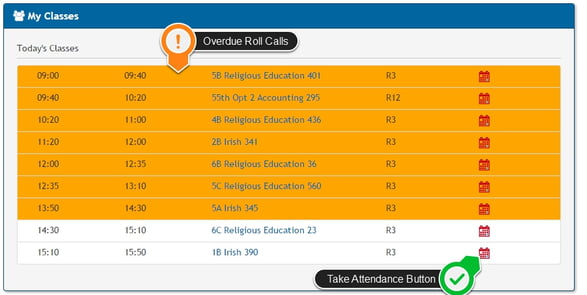 Alternatively, you could search the teaching group name in the search bar for (example 1EngA) > click actions > mark attendance
OR via your Timetable or Classes & Subjects button > click on the teaching group > actions > mark attendance.


Step 2
Click on the attendance codes along the top of the screen > apply them to the relevant students > click save. The present mark will appear as a green tick.
Note that any student that is left blank, will be automatically marked as present if you click save.
If one or two students are absent or late etc., and the rest are present it is quicker to first click the absent code relevant to the absent students > apply that to those students > then click save. Any student with a blank mark will have the present code applied to them automatically.


You also have the option on the top right of the screen to enter notes for your students for that particular class.
Via the iOS or Android mobile app
Step 1
From the home page, tap on your class to mark attendance.
Step 2
If all students are present, simply tap on the class and select 'Submit Attendance'.
A pop up will appear which asks 'You still have students with unmarked attendance. Would you like to mark them all as present?' Select 'Yes' here to mark all as present.
Step 3
You can also tap on the attendance button for an individual student to view the attendance codes and select one from the list.
Marking attendance for a teaching group on a previous day
This feature can be used if you've forgotten or missed a roll call for a past class.
Step 1
Tap on the calendar button on the bottom of the screen > Under the calendar, the classes that are on the selected day will appear.
Step 2
Tap a past date and select the teaching group that is overdue > Mark attendance for that teaching group
---
If you still have questions, please visit our knowledge base at support.vsware.ie. You can contact our support team via email at support@vsware.ie, via the chat bubble when you are logged into your VSware account or via phone on 01-5549628. Support hours are Mon - Fri, 08:30 - 18:00.