Managing Students and general administration FAQ
Linking Siblings To Incoming First Years
How to link incoming first years to their currently enrolled siblings. This article is intended for Admin. (Read time: less than 1 minute).
Last updated: 11/07/2022
In the case of siblings, you can link the profiles of incoming first years to incoming first years before you carry out the rollover on PPOD for the other year groups.
Step 1
Stay in the current academic year and click into the Groups Tab.
Step 2
You will see a group called something like 'First Years 2021 (from PPOD)'.
Step 3
Click View List > Click into Household for the relevant student > Click into Actions > Add Sibling.
Step4
Type in the sibling's name and pick their name up from the drop down > click Save.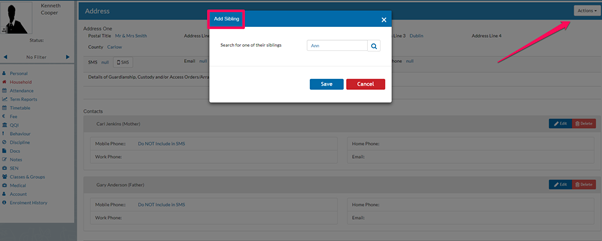 You will then see the sibling listed below the parent's 'Contact' information at the bottom of the Household tab screen.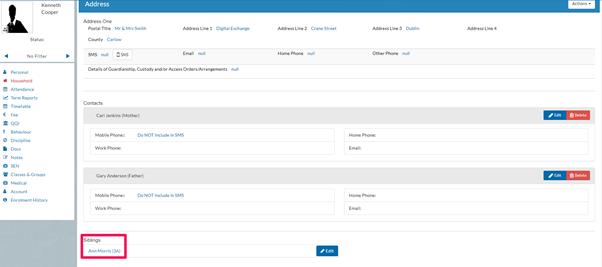 ---
If you still have questions, please visit our knowledge base at support.vsware.ie. You can contact our support team via email at support@vsware.ie, via the chat bubble when you are logged into your VSware account or via phone on 01-5549628. Support hours are Mon - Fri, 08:30 - 18:00.