Managing Students and general administration FAQ
Student's first name is changed in PPOD but not updating in VSWare
How to update a student's first name when it's not syncing from P-POD correctly. This article is intended for Admin. (Read time: less than 1 minute).
Last updated: 07/07/2022

Step 1
Go to the student's profile > click on the edit pencil beside the Name field.
Step 2
Edit the name in the 'Pref First name' field > Save. The updated name will now display in VSWare.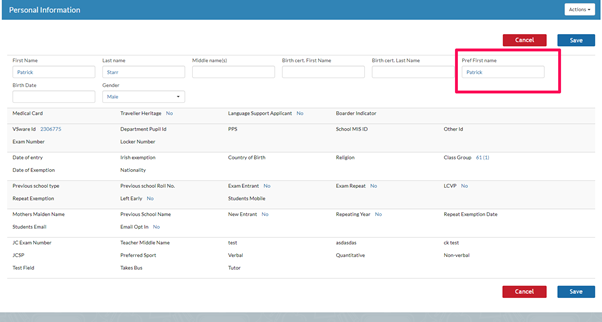 ---
If you still have questions, please visit our knowledge base at support.vsware.ie. You can contact our support team via email at support@vsware.ie, via the chat bubble when you are logged into your VSware account or via phone on 01-5549628. Support hours are Mon - Fri, 08:30 - 18:00.