This screen is in two sections. Both sections will scroll separately to allow for easy viewing and moving of classes.
This screen will show you the list of teachers who will be included in the timetable and the list of classes that they have been assigned. It will also show you the 'Load Taken' by that teacher (in hours & minutes and Periods) and their permitted 'Load' (set by you in a previous screen)
The classes can be dragged and dropped from one teacher to another or also to the Unassigned Teaching Groups section at the bottom of the screen. This will allow you to assign a class to a teacher or to "fine tune" the classes already assigned. (Changes made in this screen will be reflected in the Class Data screen
The 'Allocate Teachers' feature in also available on this screen. Clicking on Actions>Allocate Teachers will use the information added in the Teacher Sets screen to automatically add a teacher to any teaching group without a teacher assigned. It will not modify the teacher already assigned to a teaching group allowing us to ensure continuity of a class teacher from year to the next. These teaching groups will display showing a pin as in the following screenshot.

Clicking on any of these teaching groups will remove the pin and would allow that teaching groups to be considered for a swap of teacher.
After using the 'Allocate Teachers', you can manually replace any teacher who has been automatically assigned with a teacher of your choice.
Please read carefully the descriptions added to the screen shots below.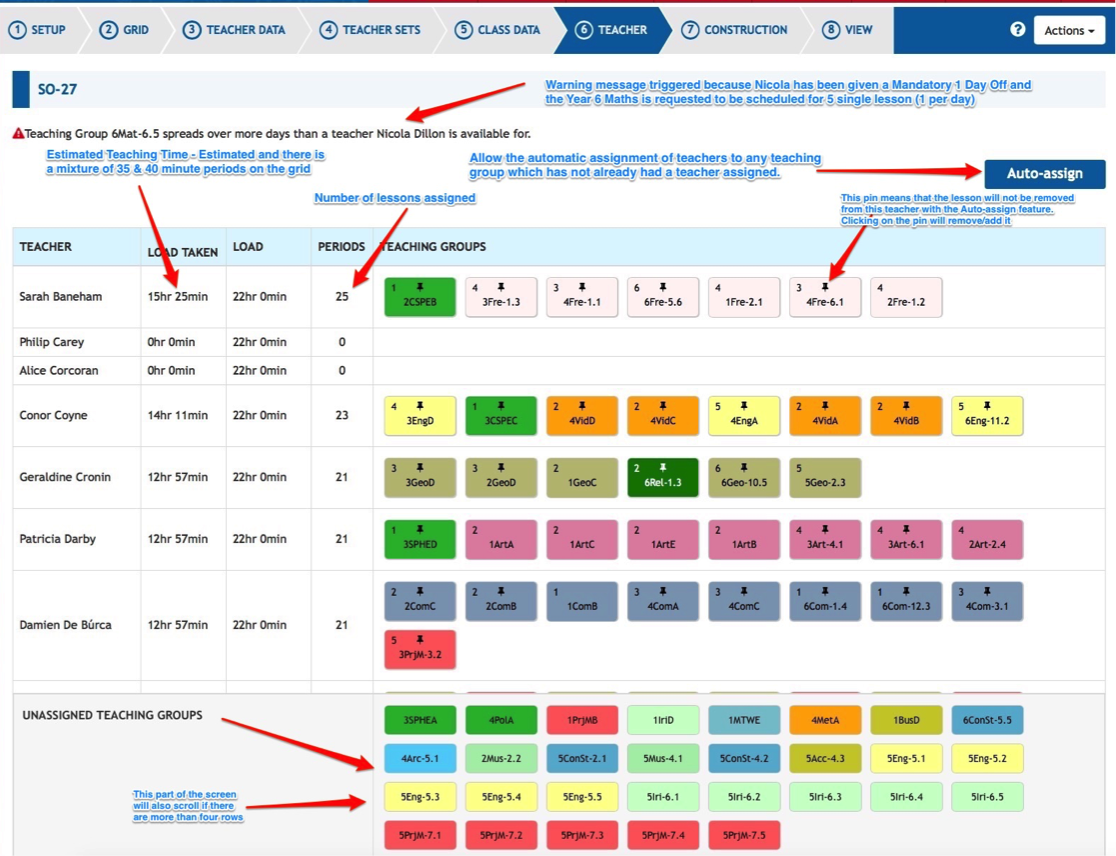 The UNASSIGNED TEACHING GROUPS at the bottom of this screen will highlight any teaching group without a teacher assigned. Teaching Groups can be dragged from here and dropped into the row of the required teacher. These teaching groups are also able to be pinned to in case there are certain subjects you don't want assigned (or don't want the generator to assign). Just be sure that there is no pin symbol in Unassigned Teaching groups section on subjects that you would like the generator to schedule.