Managing Students and general administration FAQ
Q: How to Add Siblings to Incoming First Years (read time 1 minute)
A: You can add siblings to the profiles of incoming first years before you carry out the rollover on PPOD for the other year groups.
Simply stay in the academic year 17/18 and click into the Groups Tab.
You will see a group called 'First Years 2018 (from PPOD)'
Click on View List > Click into Household for the first student > Click into Actions > Add Sibling.
You can then type in the sibling's name and pick their name up from the drop down and hit Save.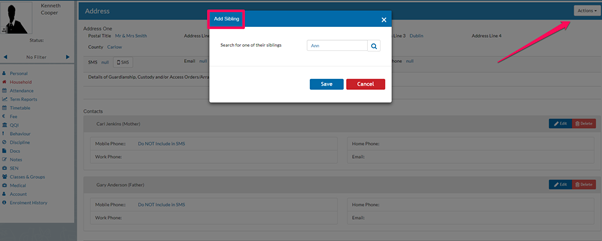 You will then see this sibling listed underneath the 'Contact' information for the parents, at the bottom of the Household tab screen, as below.