Login and clearing the cache FAQ
Q: What does 'Cache' mean and how do I clear it? (read time 1 minute)
A: One of our most common queries relate to what we would refer to as "caching issues." This basically means that a problem can only be resolved by evicting your browser cache.
'Caching' is something that all browsers do. It basically means that they store data in an effort to speed up your browsing going forward.
A complication of this is that sometimes the browser will display some of the old data that it has stored, presenting issues.
A cache issue in VSware is usually something along the lines of:
A substitution class not showing up on a covering teacher's dashboard
Attendance has been altered for a student but the change is not appearing on your own/other devices
Class lists not appearing correctly after they have been altered
When this occurs we will always advise that the first thing that you do is to clear your cache. The browser that we recommend to use with VSWare is Google Chrome.
To clear the cache in Chrome:
Press CTRL + SHIFT + DELETE at the same time.
On the screen that appears select Advanced
Set time to all time
Tick the top four boxes
Click clear browsing history
Ensure all browser windows are closed, otherwise the changes will not take
Re-open the browser and sign back in to VSWare
Do this every week or two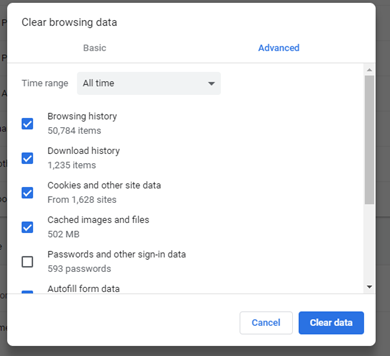 If you are using another browser or alternate device you can find a guide on how to clear it's cache here - www.refreshyourcache.com