How to set up the calendar, add and assign a day type. This article is intended for Admin. (Read time: 1 minute).
Last updated: 20/07/2022
Term dates can vary from school to school, so it is up to each individual school to set up their own calendar each year (with some additional help from the VSware support team). These steps are an important part of the timetable publishing process because without them, your new timetable will not be visible.
Once you have published and moved forward the academic year forward, you can then do the following:
Set up term dates
Contact support to create your day types including any extra days needed (such as a staff day, holiday etc.)
Apply the day types to your calendar
Step 1 - Setting up term dates
Go to Settings > Timings > Academic years > go to 2022/2023 (i.e. the upcoming academic year) > Click on the edit pencil:

Click 'Add term' > give it a name and a code (e.g. FY for full year) and specify the start and end dates for the term.
Some schools just record one term from the first to the last day of school in that academic year. If you skip this step then you will not be able to set up your calendar.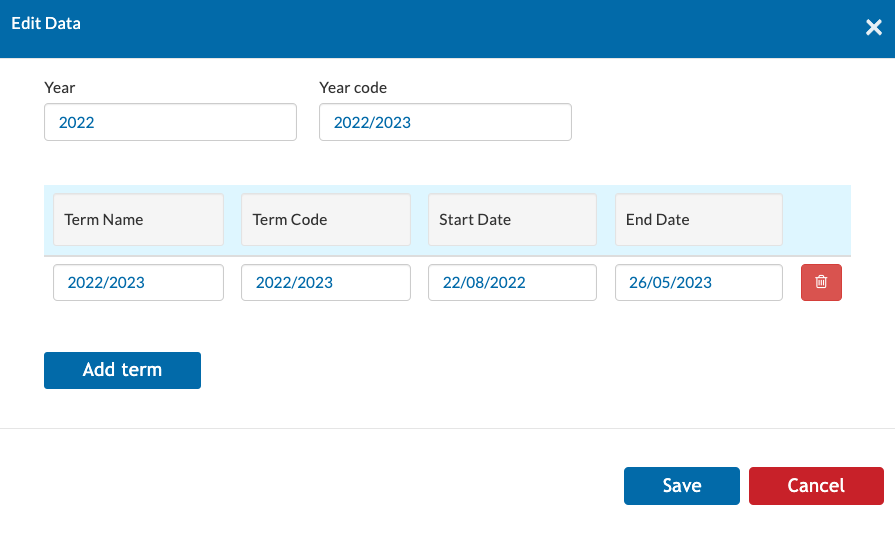 Where does the next academic year come from in the first place?
The next/upcoming academic year is automatically created when you do your PPOD roll over, so it should be there for you already. You should not create your own academic year manually for the purposes of checking your timetable as this might cause issues further down the line. For more information on how how the P-POD roll over/progression and sync fits into the timetable publishing timeline, click here.
Step 2 - Create Day Types
A day type is something like staff day, holiday etc. Once you have completed and published your timetable, the day types must be created and then applied to the calendar. It is only possible for support to create day types, so call us on 01-5549628 and we will be able to set them up for you in a couple of minutes.
Step 3 - Assign Day Types to the calendar
Go to Settings > Timings > Calendar > make sure the upcoming academic year is selected in the drop down.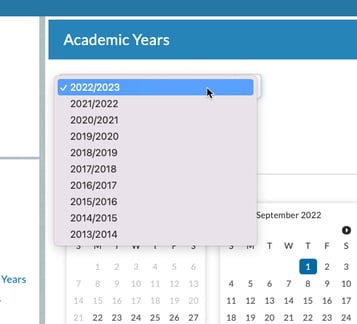 Click on the day type tab along the top, and click on the date you wish to apply it to. You can do this in bulk by clicking on the day of the week along the top. This will auto fill the vertical column below. Click 'Save' on the bottom right when the calendar is completed.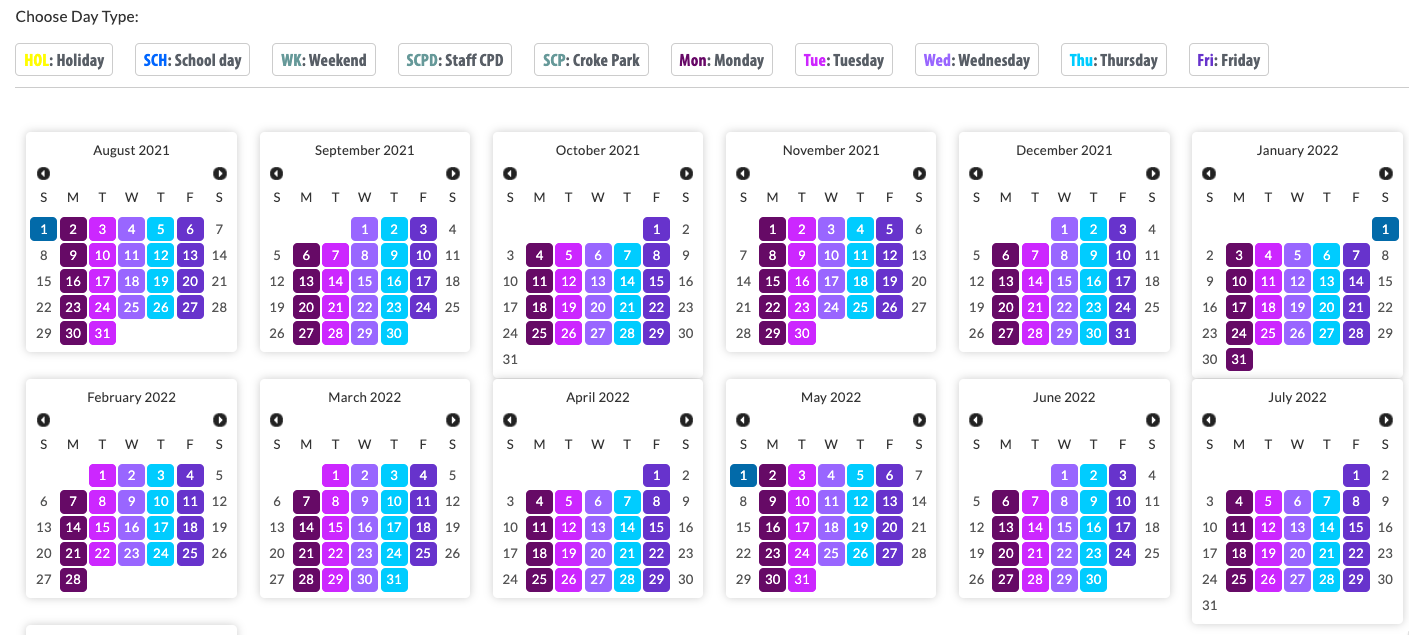 ---
If you still have questions, please visit our knowledge base at support.vsware.ie. You can contact our support team via email at support@vsware.ie, via the chat bubble when you are logged into your VSware account or via phone on 01-5549628. Support hours are Mon - Fri, 08:30 - 18:00.