A detailed article on teacher allocation and the grid. This article is intended for Admin. (Read time: 3 minutes).
Last updated: 29/06/2022
The amount of time that teachers are allocated on their timetable is dependent on the duration of the lessons themselves. This article explains how teacher allocation and differing grids/period lengths work.
Note on allocation:
Each school is given an authorised allocation of teaching hours for each school year. The allocation for any school year is based on the numbers of students enrolled in the school for the previous school year but it also depends on a number of other factors.
Each year, the Department of Education & Skills issue a circular letter for Community & Comprehensive, Education & Training Boards and the Voluntary Secondary sectors. We have added a link to each of these below and we advise that you should read the appropriate document.
Click to view:
COMMUNITY & COMPREHENSIVE SCHOOLS - APPROVED ALLOCATION OF TEACHING POSTS 2018/19 SCHOOL YEAR
EDUCATION AND TRAINING BOARDS - APPROVED ALLOCATION OF TEACHING POSTS 2018/19 SCHOOL YEAR
VOLUNTARY SECONDARY SCHOOLS - APPROVED ALLOCATION OF TEACHING POSTS 2018/19 SCHOOL YEAR
School Management bodies like the JMB, ACCS & ETBs will advise you in detail on Teacher Allocation and some of these bodies facilitate training in this area.
It is very important from the timetable perspective that each school keeps within their allocated teaching quota. For this purpose, we suggest that you keep track of hours and Whole-time Teacher Equivalents in a separate spreadsheet. A timetable needs to be examined very carefully to ensure that your teacher allocation quota has not been exceeded. Having to cut allocation from a timetable will normally result in the re-scheduling of the complete timetable.
Please note: The Principal and the Deputy Principal (in some schools) must be included in this allocation even if they are not timetabled for classes. As these personnel might not be appearing on the timetable lists, it is an easy mistake to forget to include them in the allocation totals.
Allocating time in VSware
The Grid for a school timetable sets up the duration of the lesson periods and the number of these periods each day. This varies greatly from school to school. Some schools have 40-minute lesson periods, others have 35-minute periods and some have now moved to lessons of 1-hour duration.
Some schools have a mixture of 35 and 40 minute lessons. This can present a difficulty because it is not possible to calculate the total weekly time of a teacher until the timetable has been completed fully. It is only possible to calculate the total weekly time if the lesson periods are of the same duration.
40-minute lesson periods and indeed 1-hour lessons are very useful here because the hours of a permanent teacher are calculated on 22-hours - 1 Whole-Time Teacher Equivalent (1-WTE).
A teacher with 33 lessons of 40-minute duration each will be teaching exactly 22 hours weekly.
A teacher with 27 lessons of 40-minute duration each will be teaching exactly 18 hours weekly. (18 hours is sometimes the maximum hours of an Assistant Principal in a Community or Comprehensive School or College)
Obviously, 22-hours and 18-hours weekly teaching times can easily be arrived at if the school has 1-hour lesson periods.
These totals will ensure that the school is making full use of its allocation. This can not happen where a school is using a mixture of 35-minute and 40-minute lesson periods, and you will often find teachers' weekly hours of 21-hours and 35-minutes or times significantly short of 22-hours.
When this happens, you cannot normally assign another lesson to that teacher as this extra lesson would result in a weekly teaching time of greater than 22-hours. In a large school, a shortfall like this on numerous teachers' timetables will result in a significant loss of overall teaching time to the school.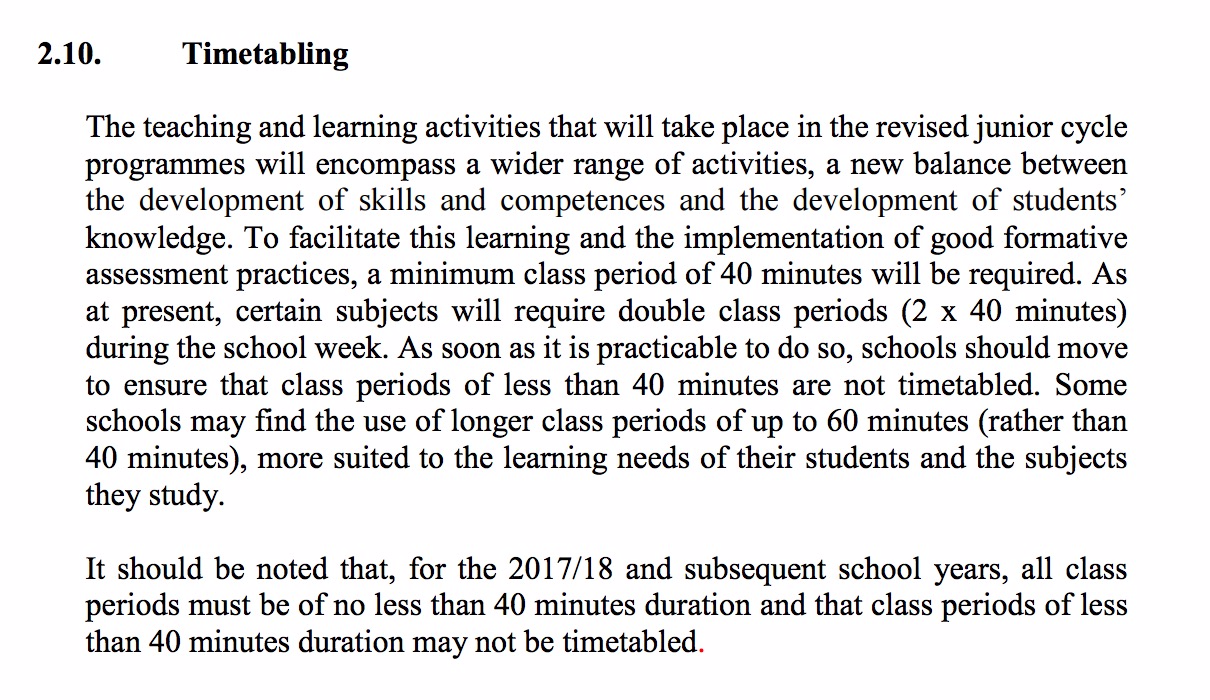 Above is an extract from the Timetabling paragraph of The Department of Education and Skills 2017 Circular Letter.
In VSware, we can keep track of a teacher's curriculum very easily using the Teacher screen (step 7) in Timetable Construction. This screen records accurately the number of lesson assigned to a teacher in the Class Data Screen or using the Teacher Screen.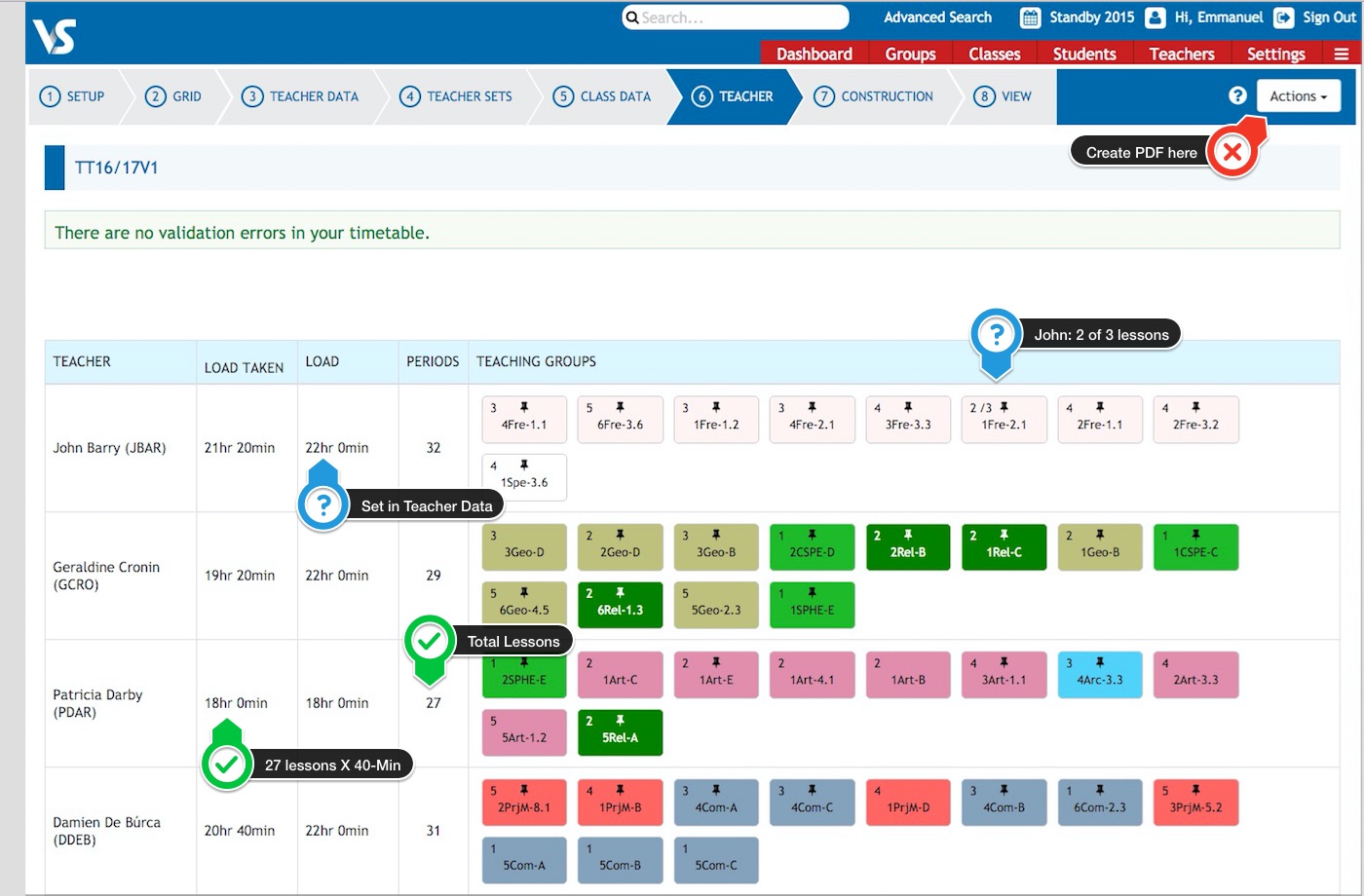 Please Note: The 'Load Taken/ Time taken' column is only accurate if the lesson periods are of equal duration.
For more information on the grid, click here.
Tip: A very useful PDF of this screen can be created using the Actions button. This can easily be emailed to a colleague for consultation on teacher assignment.
---
If you still have questions, please visit our knowledge base at support.vsware.ie. You can contact our support team via email at support@vsware.ie, via the chat bubble when you are logged into your VSware account or via phone on 01-5549628. Support hours are Mon - Fri, 08:30 - 18:00.