How to publish the timetable. This article is intended for Admin. (Read time: 3 minutes).
Last updated: 19/07/2022
Releasing your new timetable to the staff, parents and students is a three part process.
1. Publishing
2. Moving the academic year forward
3. Setting up the calendar
After creating a timetable in timetable construction, making any minor/final adjustments to it in Step 8, View, you can then publish the file into VSware as next year's timetable. Please note that you will be able to easily make changes to the published timetable following publication using Make Editable.
How to publish
Step 1
First ensure that you are in the 2021/2022 academic year (current year) and that you are publishing into 2022/2023 (next year) when you are publishing for the first time. Failing to do so will cause issues.
If you publish a second, third time etc., it doesn't matter what academic year you are in. In other words, you don't have to repeatedly go back to the current year to re-publish multiple versions of your file.
Step 2
Go to timetable construction > Screen 8, View > Actions > Publish.

Step 3
Under 'Select a year' > pick next year, i.e. the upcoming academic year.
(The year should match the name of the year in Calendar > Academic Years).
> Enter the correct start year > enter your password > Publish.
Warning: When you hit publish, you will overwrite any previous data for the year that you are publishing into. On your first publish, this should not be of any great concern but if you publish a 2nd, 3rd time etc. perhaps during the year, this warning should be respected.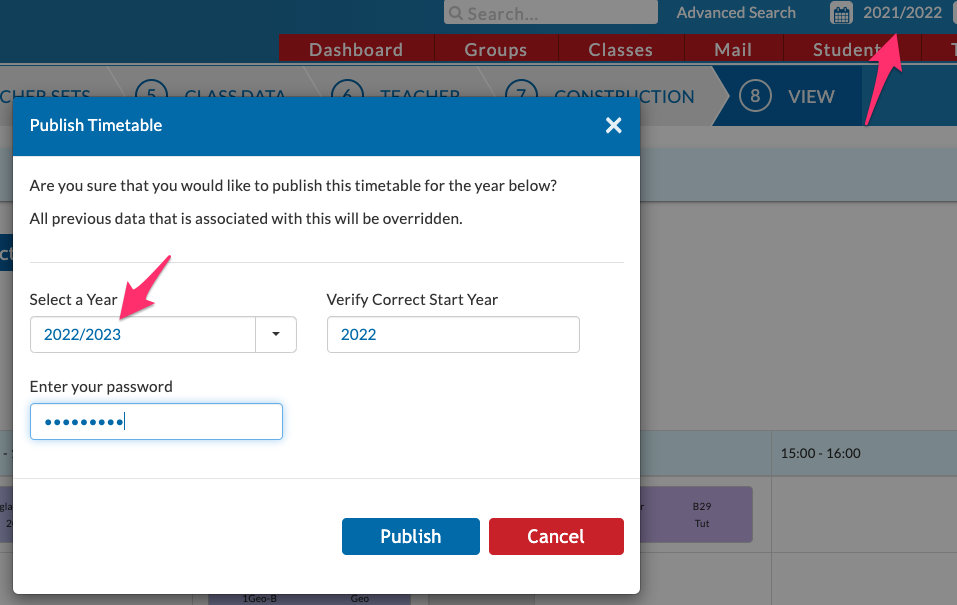 Where does the next academic year come from in the first place?
The next/upcoming academic year is automatically created when you do your PPOD roll over, so it should be there for you already. You should not create your own academic year manually for the purposes of checking your timetable as this might cause issues further down the line. For more information on how how the P-POD roll over/progression and sync fits into the timetable publishing timeline, click here.
Confirmation of publishing
You will get a message telling you that a comparison between the content your Timetable File and the content already published in the next academic year is being carried out. When your publish has been successful, you will see the success message like the one below.

Some schools may need to publish more than once. During the first publication, there is nothing to compare. However, in any subsequent publishing, if there is any difference between the teaching groups already published when compared with the teaching groups in the timetable file, you will be asked if you wish to match them or deactivate them.
You might chose 'Match' if you had for example changed a teaching group in any way (core to block or a change of code) and you might choose 'Deactivate' if you no longer need the teaching group in the next year academic year.
How move to the next academic year
After publication, you are still in the current academic year. In order to view the published timetable in VSware, we will need to switch to the next academic year.
Step 1
Click Settings > Timings > Academic Year > click on the gear icon.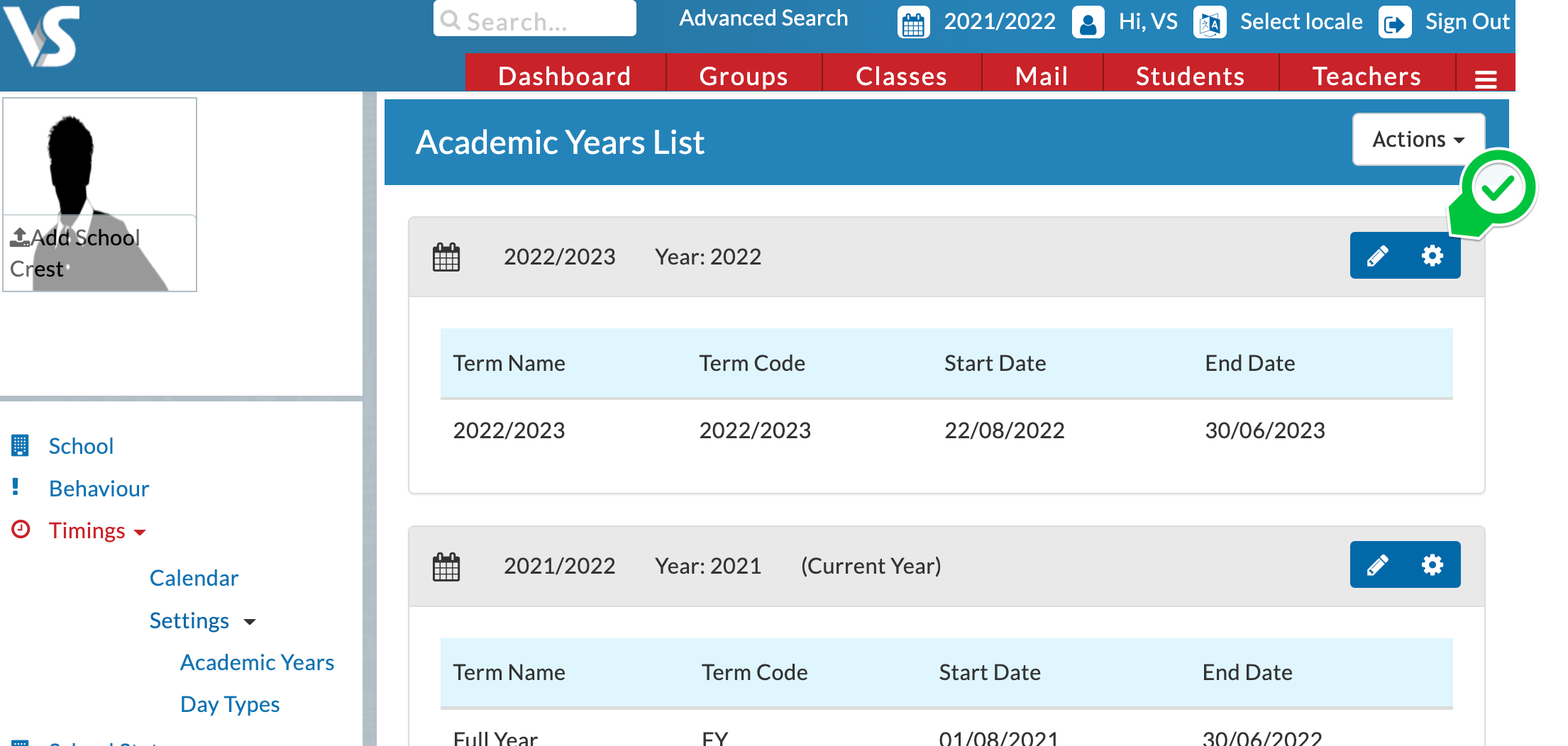 This will display a dialog box which allow you to move to the different academic year as 'All Users' or 'Just Me'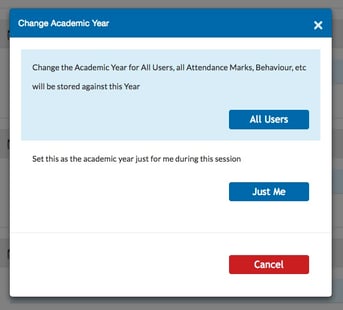 'Just Me' v's 'All Users'
If you have published but not yet moved the year forward, you can view the timetable privately before making it public to teachers by moving just your own account into the next academic year by selecting 'Just Me'.
Only you (or any secretary or principal user that moves into the next academic year themselves) will see the new timetable. This is a very helpful feature because it allows you to see what it looks like when published without teachers viewing it, even if they are logged in at the same time.
The 'Just Me' setting is temporary so if you have moved forward a year using 'Just Me', logging out and then back in again will move you back to the current year.
So it follows that you can publish any time after the final term of the year ends, and you should only ever use the 'All Users' button to move the academic year forward when you are confident that your timetable is complete and you are ready for the school community to see it.
If you move the academic year forward for All Users by accident, you can easily move it back.
Tip: If you're unsure of which file is currently published, you can easily check by going to settings > system settings > scroll to the very bottom of the page. Here you will see the name of the file, as well as the year the timetable was published from and which year it was published into.
Setting up the calendar
This is the final step in releasing your new timetable file to the wider school community.
Once you have published and moved forward the academic year forward, you can then do the following:
Set up term dates
Contact support to create your day types including any extra days needed (such as a staff day, holiday etc.)
Apply the day types to your calendar
---
Please read our articles on Live Editing of a teacher's timetable:
Manually Edit a Teacher's Timetable (during the school year)
Make Editable - Room Changes
Make Editable - Swap Teacher
Make Editable - Special Tuition Teaching Groups
Make Editable - Adding Team Teaching
---
If you still have questions, please visit our knowledge base at support.vsware.ie. You can contact our support team via email at support@vsware.ie, via the chat bubble when you are logged into your VSware account or via phone on 01-5549628. Support hours are Mon - Fri, 08:30 - 18:00.